The Azimuth Print price pledge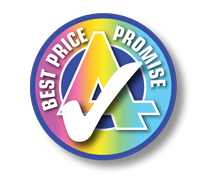 Azimuth Print brings you the best in quality and service whilst delivering extremely competitive prices.

If you feel that you can get better value then please tell us about it. We will then try to match or beat what you have been quoted.
Perhaps you have a job that is not on our price list?
Maybe you sell higher or lower numbers of a particular product?
Or perhaps you have found a lower price elsewhere compared to our price list?
If so fill in the provided form and we will contact you.
We will then look at the price and product and see if we can give you better value for money.

This is our price pledge.

Subject to sight of written quotation, or web link, from a UK registered company. Excludes any promotional prices. Subject to like for like comparison of product specifications including production times.
Latest Testimonials
Date:
Wednesday, 21st September 2022
From:
Cheryl
Hi guys,

Just wanted to say the brochures arrived today and I felt I had to say thank you for all your efforts, they are fabulous as always.

I think this will be my last Carnival as I've been on the committee for the past 17 years, it's probably time to let some young blood take over. I will endeavour to make sure they know where to come for printing.

I possibly may get involved with other local voluntary groups, so will put you forward for any printing requirements.

Once again a huge thank you.

All the very best,

Cheryl.

Date:
Tuesday, 13th September 2022
From:
Belle Garland
Hello Mike,

Just wanted to send a quick thank you message for the comment cards, they are perfect, and they were done so quickly!

Have a wonderful day,
Belle

Date:
Tuesday, 19th July 2022
From:
Elizabeth Horne
They have arrived ! Thank you soooooo much

They look amazing 🤩